SMDC Grace Residences - LOCATION
Grace Residences is truly an amazing grace of luxurious and elegant living, nothing is comparable to its finesse.

The project is situated along Cayetano Blvd. (formerly Levi. B. Mariano Ave.), Brgy. Ususan, Taguig City. This fast-growing 4-lane avenue is one of the site's major accessibility points, including Carlos P. Garcia Ave. (less than 500 meters to the west, a 6-lane highway) which brings the project closer to BGC and Makati.

The Medical Center Taguig is also along this boulevard less than 800 meters to the east. While other famous landmarks surround Grace Residences, they are also easily accessible, which include Cruz-Rabe Hospital, St. Luke's medical Center, Rizal Medical Center, Enderun Colleges, the Korean International School, Meridian International College, the British School Manila, San Roque Parish, SM Aura Premier, Bonifacio High Street, Market! Market! Manila Polo Club, McKinley Hill Stadium, Yellow Cab Pizza Co., Wells Fargo Center Taguig, the Manila Golf and Country Club, University parkway, K-Pop BBQ, and other major destinations near the site's immediate vicinity.
The Grace Residences Cayetano Blvd. will set a brand new trend in luxury living across the region, as it is touted to be the next destination for an awesome sanctuary near BGC. The project offers sports and recreational amenities that will surely correspond to the residents' active lifestyle and the pursuit of a healthy living. These amenities could be easily reached as they are situated very near the base of each tower. It has 3 swimming pools (lap pool, kiddie pool, and adult pool), basketball court, jogging path, meditation area, stone foot massage, function rooms, landscaped gardens, yoga areas and gym and fitness center, retail shops and convenient stores, among others. Elegant units offered are 1-BR, 1-BR with balcony, and 1-BR Deluxe with balcony, and 2-BR unit with balcony, in sizes ranging from 27 to 47sqm.
Korean International School (9 min)
Meridian International College (10 min)
British Schools Manila (9 min)
St. Lukes Medical Center (6 min)
Fort Bonifacio General Hospital (8 min)
Rizal Medical Center (11 min)
St. Anne Parish (4 min)
San Roque Parish (4 min)
St. Joseph Chapel (4 min)
SM Aura (6 min)
Market! Market! (6 min)
Bonifacio High Street (7 min)
Manila Polo Club (9 min)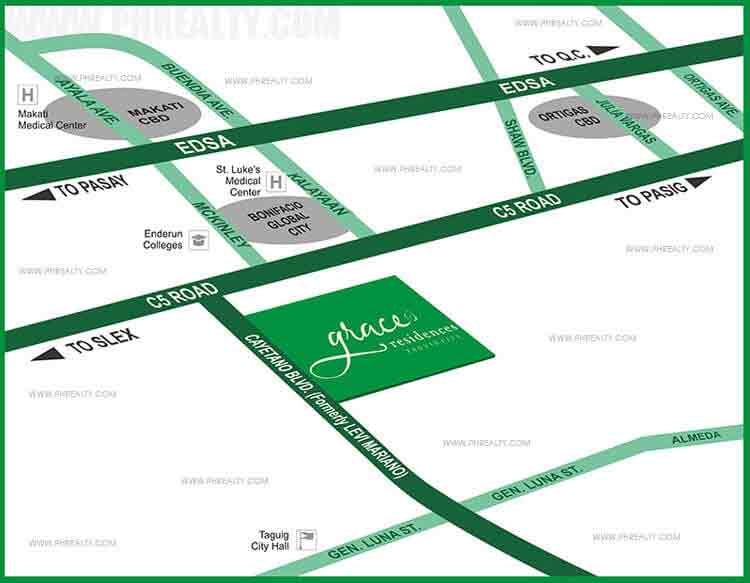 Spotlight on Taguig
Taguig city offers what no other city in Metro Manila offers. Taguig condos unmeasurably heighten the living experiences of its residents. A relaxed lifestyle is what Taguig residents enjoy day in day out. These condos are the choice of successful and stylish individuals who want to maintain their lifestyle.
Taguig condos offers muliti-faceted fun living to its residents. This historical city gives its residents an upscale living experience all year round. As a resident of Taguig city, one enjoys a vibrant lifestyle in a nature-rich setting. Taguig city is the centre of all the action. A city where pleasure meets business in the most exciting manner. An elevated way of living awaits at Taguig city. The city that never sleeps.
Taguig city is known for giving new beginnings to its residents. As a resident here, one enjoys the first-class amenities that are meant to relieve the residents of their stress. These amenities allow the residents to enjoy glorious summer days without leaving the city. Taguig introduces a new perspective to residential.living in the most exciting manner. As its resident, one gets to enjoy the air of a good life all year round at the comfort of their home. This is because this city is dedicated to give a premium lifestyle to its residents. Taguig's unique concept of lifestyle is indeed thrilling.
Taguig city is the best place to celebrate life's next phase at for it elevates the quality of its residents' lifestyles. This magnificent city provides the residents with a chance to invest in things that make their lives much better. Increase in the residents' property value is the city's driving force. As the city is full of commercial and residential establishments, increase in property value is guaranteed. Life has never been better than the life offered in Taguig city. The city that takes care of the residents' financial aspects. A city that gives everyone an equal opportunity to grow.
Taguig city offers its residents a luxurious yet affordable lifestyle. The city never sleeps as it is always serving its residents. The city gives the residents a chance to converge with family and friends at the first class restaurants and clubs. As they meet to catch up or have fun, entertainment graces the occasion. All work and no play makes Jack a dull boy and that is why the entertainment joints are strategically located in the town proper so that they can be easily accessed by the residents. The residents enjoy the convenience of living just a short walk from these entertainment centers.
Furthermore, the city is well served by the means of transportation both private and public. The jeeps, buses and train are all dedicated yo make the lives of Taguig residents much more bearable.
The schools and hospitals are also short distance from the residential areas. Living in Taguig means living close to key destinations in the city: a lifestyle that where everything is easy and bliss.
Each day is exhilarating for Taguig residents as they experience a modern, first rate lifestyle whereby they get to enjoy finest amenities in the world. The delight in the array of features and amenities is really fascinating.