Why Buying SMDC Grace Residences is an Awesome Idea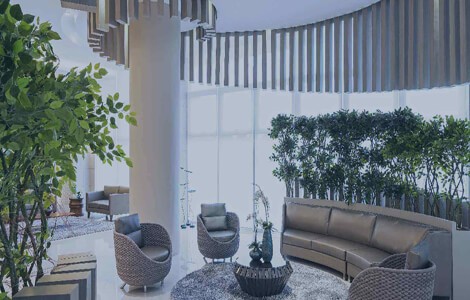 Seeing lush greenery while staying close to the commercial and business hubs in Metro Manila may seem impossible but it's not. Thanks to the smart architecture and design choices implemented by SMDC in the beautiful community of Taguig, its new development Grace Residences is the perfect getaway in town. Located close to the biggest shopping paradise in the metropolitan city and the most advanced tech companies in the country, this property promises to help its residents de-stress while reaping the advantages of living in the middle of a highly urbanized community. Families, young professionals, and anyone who wants to experience a lush haven in Taguig would love to call Grace Residences their home.

Upscale Home to Match Your Lifestyle
Grace Residences is another modern and luxurious development from SMDC. This condominium unit will have four towers and it covers 2.6 hectares. Similar to SMDC's other developments; this will have a resort theme which will make residents feel that they are always on vacation. Facilities in Grace Residences rival those of five-star hotels situated in the city.
Grace Residences welcomes residents to the receiving area in the lobby where there is a front desk for everyone's convenience. The building also maintains round the clock security, and there are CCTV systems in strategic parts of the property.
As for amenities, fun activities await residents in the seventh floor of Tower 1. There is so much to do in the Orchid Tower. There are swimming pools for those who fancy a dip before or after a long day and a fitness gym for those who are working on their muscles. There's also a function room for hosting various activities, and a basketball court for a game of hoops with the gang. For the little ones, there is a children's play area, and the whole family can hang out in the pavilion. This property can accommodate all your growing needs.

Green Community
When you are living in the metro, you need to compromise on a lot of things –traffic and pollution become part of the daily grind. If you want to dodge both while living close to where you work, Grace Residences is the perfect place to call home. Thanks to the expert planning of BGC, there are a lot of open spaces which is one reason why it's just a hit among health junkies. Outdoor sports, ultimate Frisbee, football, and badminton are just some of the activities you can do while in the area.
Aside from having enough greenery to soothe your tired eyes, BGC tries to minimize air pollution and traffic by prohibiting public vehicles from entering the town. Instead, BGC has its own buses plying along the West Route, East Route, and BGC Central. These electric buses help the community maintain pedestrian-friendly streets. Almost every corner of the area has a CCTV camera which is one reason why BGC residents and those who work in the area feel no fear even if they are walking on their own at night.

Classy Neighborhoods
Grace Residences is located in Bonifacio Global City where the exclusivity makes you feel safe and secure. Bonifacio Global City exceeds expectations when it comes to planning because it is not just any neighborhood –it is a privately owned district. BGC's 240-hectare area has been strategically planned to create an upscale neighborhood. The township looks fashionable –the core of this city is made up of high-end business centers and branded shops. The Western atmosphere is a big attraction and provides the perfect environment for relaxing. Since the town is privatized, this place feels exclusive. Residents also feel secure while they are in this part of the metro due to the well-lighted streets and the number of establishments in the area.
Most of the residential units are condominiums targeting professionals working in the area, expats who are looking for a retirement home, and international students. Given the neighborhood in BGC, it is not surprising why many individuals are shopping for a residential unit near on inside this area. Whether you are working in the country's biggest financial hub, Makati, or inside BGC, Grace Residents is the most convenient home from where you work.
Many foreign nationals decide to live in BGC but a lot of young professionals and those from the middle-class families also reside in this city. This multicultural community is a great place to meet new people and discover new things.

Center of Digital and Commercial Hubs
Grace Residences is nestled in a community which is close to the location of large multinational companies in the country. While it's true that the prices in BGC are higher compared to other parts of the metro, it is also the preferred location for many international companies that are seeking for the right place to establish a corporate office in the Philippines. These companies offer higher salaries compared to some local corporations which more than makes up for the cost of living in the area.
Whether you are planning to continue on your chosen career path or make a shift to pursue a new dream, it would be easy to find the right employer close to home. Grace Residences is just the perfect haven to go home to and plot your next career move. With several employers to choose from, you would definitely find the place you would love to work in.

Investment Prospects
Grace Residences is more than just a convenient place to crash when you are in BGC. This place is also one location where it would be ideal to own a property. There are so many possibilities for those who decide to buy a unit. While you may decide to move to another part of the metro depending on your personal circumstances, a property in BGC is always a good idea since the value will increase over time.
Whether you are planning to rent out the property or ultimately sell it, there will always be a way to make money. Undeniably, Grace Residences is a lucrative investment for income generation and for a home in Manila's posh urban district.